Many people know that aquamarine is the birthstone for our March babies, but the thing is – aqua marine is a wonderful stone for everyone. Due to its mesmerizing range of blue and green ocean shades, it is a perfect stone to complement our spring and summer wardrobes. I don't know about you, but I for one, can't wait for spring to arrive! As the weather is about to warm up, get inspired to use aquamarine to create a fresh evening look for a night out on the town.
5 facts that you may not know…
This stone has a very interesting story… Here are 5 fascinating facts where you may find a thing or two that you didn't know before:
1. March birthstone
So, first of all – happy birthday to all you March babies. Your month has two birthstones; the aquamarine and the blood stone. Aquamarines vary in color from deep blue to blue-green of different intensities, caused by traces of iron in the beryl crystal. Because of its luster and shine, the aquamarine is also called "poor man's diamond". It may sound a little insult-ish, but if I was a runner-up to the diamond, I would be proud!
https://earthsky.org/human-world/march-birthstone-aquamarine-bloodstone

2. A bit of folklore and history
Aquamarine means "sea water", and folklore tells the story of how Neptune would give aquamarines as gifts to mermaids, which the mermaids protected in big underwater treasure chests. The association to the sea made it a sailor's gem, promising prosperous and safe journeys as well as protection from monsters of the sea.
3. Healing properties and mystical powers
Aquamarine is a "Stone of Courage and Protection". It is often used to enhance spiritual communication and clear communication blocks. Encouraging clarity of thought, aquamarine can aid in bringing sense of new knowledge, making it a great crystal for students and learners of all kinds. (Graduation gift, hello!!!) Aquamarine allows you to look at emotional situations from other perspectives. It can help overcome judgment of others and encourage tolerance.
4. Color
Aquamarines are found in a range of blues and greens; from a pale pastel to a greenish-blue to a deep blue color. Darker shades of blue are increasingly rare and in turn, make the value increase. It has quite a versatile hue which makes it perfect to match with other color shades. Generally aquamarine makes the best color plays with gold, silver, bronze, white, beige, neutrals, coral pink, as well as navy blue, brown and green.
5. The Dom Pedro
The Dom Pedro is the world's largest cut aquamarine at 10,000 carats and is on display at the Smithsonian Institute in Washington DC. Sometime during the 1980's, this stone was found in Brazil, 3 feet long (91 cm) and weighing 100 pounds (45 kg). As fate would have it, it broke into three pieces during transportation (Oh nooo!!! This is something I would do!). The two smaller pieces were cut up into smaller stones, and the largest one was named Dom Pedro and was turned into a sculpture by German gem artist Bernd Munsteiner. Read more on the Smithsonian website.
A final thought…
Personally, I feel very connected to this particular gemstone and I love working with it and wearing it. It's not just the color and prettiness of it… it's something more… Maybe I am just a landlocked mermaid who is drawn to this gemstone and will always find reasons to keep it around.
Shine bright out there,
Nilla
---
Now, get ready for spring!
Spruce up your spring wardrobe and your mood with any of these designs, available now in the online store.
This faceted smokey quartz drop has a trail of aquamarines running up the one side of the chain. Wear this necklace with a lower cut black top and a pair of jeans and you are ready to go.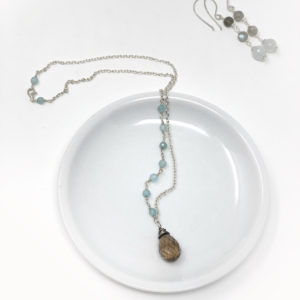 I am hopelessly obsessed with rose gold for the moment. This necklace is rose gold (of course) and has an aquamarine center drop and sapphire accents. Gorgeous. And – there are earrings to match.