Yes! Hibernation is over. Spring is finally here, and it's amazing how it works magic on us all. Spring is definitely a season for change. (If you are eager to know more about the limited sale – scroll down a bit further and you'll find all the information. Who am I to stand in the way of a sweet deal!)
The first sunny and mild day of the year, was a week or two ago here in PA. On that day, as if it was a scheduled event, all neighbors literally busted out of their houses at the exact same time. We stood outside in our drive ways, waving to each other and exchanging pleasantries, all looking a bit dazed and confused. And pale. Lol. I got the distinct feeling we all had to spend time outside for the same reason; to shake the cob webs of winter off and to feel the sun on our faces. It was the start of a new season.
Opening the door to something new
Each season has its own beauty, I truly believe that. But that being said, I think it's still OK to have favorites. To me, the transition into spring is a wonderful time of year, because nature remind me that it's all about rebirth, new beginnings and that we always always always have a chance to start over. Buds are blooming, birds are singing and it's like earth is waking up and coming alive again. It's simply a great season to take the opportunity to think of your own transition. Maybe pick something back up that have been lying dormant for a while and start over… or, open the door to something entirely new, something bold and unexpected…
So, what comes to mind for you when you think of change this season? For me, I am seriously thinking about registering for a summer course in metalsmithing at the local community college that I have been eye balling for a while. At this point, I am not sure if I will take the leap or not. On one shoulder I have "Impatient Nilla" who is very excited about moving forward, developing and learning more. On the other shoulder I have "Practical Nilla" who wants to make the very sound and reasonable decision to put focus on all the things that I have already started for right now. I'll let you know who wins this riveting battle.
A new beginning…
Each morning we wake up with the opportunity of a new blank page. Grab the chance and start writing your story. What loveliness will you embark on today?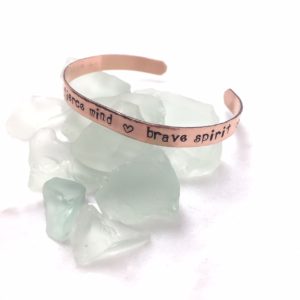 A sweet deal for you
Now, speaking of opportunities. I can't leave you here today, without at least a little something to celebrate spring. For the next two days, you can enjoy $20 off any of the hand stamped bracelet cuffs, either in copper or aluminum. Offer starts today and expires at the end of Thursday, April 18, 2019.
Shine bright out there now,
Nilla
XOXO